Our Story

Global reach. Individual focus.

That's true blue.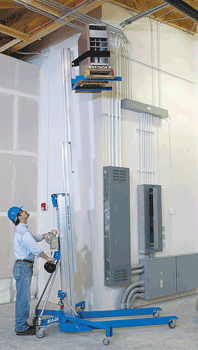 At Genie Sciscor Lift, the concept of lifting people and materials higher extends beyond the products we build. It reflects the spirit of partnership behind everything we do. We're a global company that's deeply connected to our customers — working to help you build your business, whether you own one store or one hundred stores.
Genie Industries began in 1966 with the introduction of the Genie® Hoist, a portable, pneumatic material lift. It was followed by additional material lifts and a series of aerial work platforms to meet customer demand — products that quickly gained worldwide recognition and often represented breakthroughs in design.

Today, as a subsidiary of RAC Ketttering, we remain at the forefront of innovation and quality production. But our customer-focused values keep us grounded. From Denver to Dubai and Hong Kong to Helsinki, customers ask for our distinctive blue lifts on the jobsite because of our uncompromising service and support. Here's why...
We value people. Our team members' expertise and personal commitment are our greatest products — and our customers are our greatest motivation. We're excited, dedicated and proud to serve you, and it shows in every product we manufacture.

We think lean and green. We continuously collaborate to identify the most efficient, environmentally sound ways to make the products customers want. Our "lean" practices minimize waste with the goal of delivering the highest quality product in the shortest amount of time at the lowest cost to our customers.
.