Powered Access Services are the UK's formost supplier of scissor lift hire equipment in the UK. The modern fleet of the very best powered access platforms in the UK sourced from the worlds leading manufactures including Skyjack and Upright enables you to tackle almost any task at height. National coverage from our three branches in Scotland, Midlands and London enable fast deliveries to be made.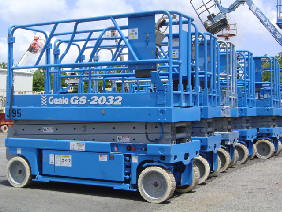 Safety training courses for scissor lift and boom platforms for operator safety are run by our in house training instructors.
Genie Load Lifter
Routine Lifting Made Easy
With the Genie Load Lifter , one person can easily lift, move and position heavy loads 4 from computers and electronic equipment to small appliances or manufactured parts. Compact and portable, it lifts up to 200 lbs (91 kg) to a height of 5 ft 7 in (1.7 m).

Fast, Quiet Lift/Winch System
The quiet, high-speed reversible winch quickly lifts and lowers heavy loads with high-strength, aircraft-quality cable that is vinyl-coated for longer life.

Portable Design
The Load Lifter folds for compact storage 4 no tools required 4 and loads easily into a pickup for transport. At just 58 lbs (26 kg), this durable, corrosion-resistant aluminum unit is easy for one person to carry and maneuver.

Easy Loading and Handling
Features include a beveled aluminum platform for easy loading, as well as standard non-marking rear wheels and built-in stair glides for handling over stairs and curbs. Optional front-swivel, non-marking casters and field-installable foot brakes are also available.

Options and Accessories

Pneumatic 8 in (20 cm) rear wheels for rough terrain=20
Field-installed foot brake=20
2 in (5 cm) non-marking front swivel casters for easy maneuvering with heavy loads

Use the Genie Load Lifter to move:

Freight parcels=20
Computer and electronic equipment=20
Fax machines and office equipment=20
Small appliances=20
Paper and printed material=20
In-process manufactured parts=20
Also use it as a work table and for common material handling tasks
Genie Lift
With three base models and many accessories to choose from, the Genie Lift is ideal for a wide variety of tasks, including shipping/receiving, lifting heavy material to or from shelves, installing and repairing HVAC components, lifting and moving automotive parts, and other manufacturing applications.

Three Base Options
Choose the adjustable straddle base for small pallets, appliances or bulky objects. The shorter legs on the counterweight base allow you to get closer to loads on countertops or shelves. Plus, the standard base offers a low loading height suited for general lifting and material delivery.

Compact, Maneuverable Design
The telescoping aluminum frame makes the unit compact, the steel forks and winch handle are reversible for flexibility, and a hold-down mechanism secures the carriage for easy transport and storage.

Versatile Options
An electric winch, a ladder accessory and a load-handling platform are available to customize your lift. The boom option turns your Genie Lift into a vertical crane or hoist capable of lifting 210 to 500 lbs (95 to 227 kg) with up to 20 in (51 cm) of reach.

These are a few of the thousands of applications:

Shipping/receiving=20
Transporting appliances=20
Lifting heavy material to or from shelves=20
Moving office equipment=20
Installing ceiling/wall appliances

Record storage and retrieval=20
HVAC installation and repair=20
Lifting equipment/computer products in retail stores=20
Handling cement bags=20
Lifting and moving automotive parts
Superlift Contractor
Extreme Durability
Designed specifically for the construction industry, these heavy-duty units can be operated by one person and can lift, lower and move loads up to 650 lbs (295 kg) to heights of up to 24 ft (7.32 m). Glide rails allow one person to easily load or unload the unit, as well as lift it in or out of a pickup truck.

Quick and Compact
Quick setup requires no tools. Plus, the heavy-duty, patented telescoping mast system stows in a compact position. Legs fold up and attachments are removable for easy storage.

Quiet, Two-Speed Winch Option
Shift gears Con the fly and lift loads faster with the exclusive, constant mesh two-speed manual winch that lets you change gears without removing or re-attaching handles.

Six Interchangeable Accessories
Choose from a range of load-handling accessories, such as standard and adjustable forks, a boom, a load platform, a pipe cradle and fork extensions.
Superlift Advantage
Powerful Choices
The Genie Superlift Advantage is a manually operated lift with multiple base, winch and load handling options to create just the lift you need. The compact, portable design rolls through standard single doorways in the upright position and is easy to load into a pickup truck.

Options for Every Task
Choose your base, mast height and load handling attachments to design the exact lift that meets your needs. You can also select the standard one-speed winch, which incorporates a silent ratchet system, or the two-speed winch upgrade, which allows you to shift gears Con the fly.

Easy to Maneuver and Store
The unit sets up quickly without any tools and is ready to go to work in seconds. The rear transport wheel also allows maneuverability on uneven surfaces. Legs fold up and attachments are removable for easy storage and loading.

Extreme Durability
The patented, field-proven telescoping mast system is compact, strong and rigid.
Super Tower
Excellent Supporting Performance

Designed for theatrical productions and entertainment events, the Genie Super Tower telescopes lighting, sound systems and scenery weighing up to 800 lbs (363 kg) and can lift to heights up to 26 ft .5 in (7.94 m). In addition, the standard flat black anodized finish blends in so well backstage, it s virtually unnoticeable to the audience.

Easy Transport and Storage
The compact stowed position makes the Super Tower easy to move through doors and load on trucks with no bulky base to get in the way.

Quick, Simple Setup
Just install the outriggers and set the leveling jacks.

Options and Accessories
A two-speed winch option allows you to shift gears during operation. The load platform option fits over standard forks with no tools required and handles heavy or odd-shaped objects. Plus, fork extensions are available to insert on standard forks for an additional 25 in (64 cm) of length.

Options and Accessories

One or two speed winch
Load platform
Fork extensions